Embrace Classic Sophistication!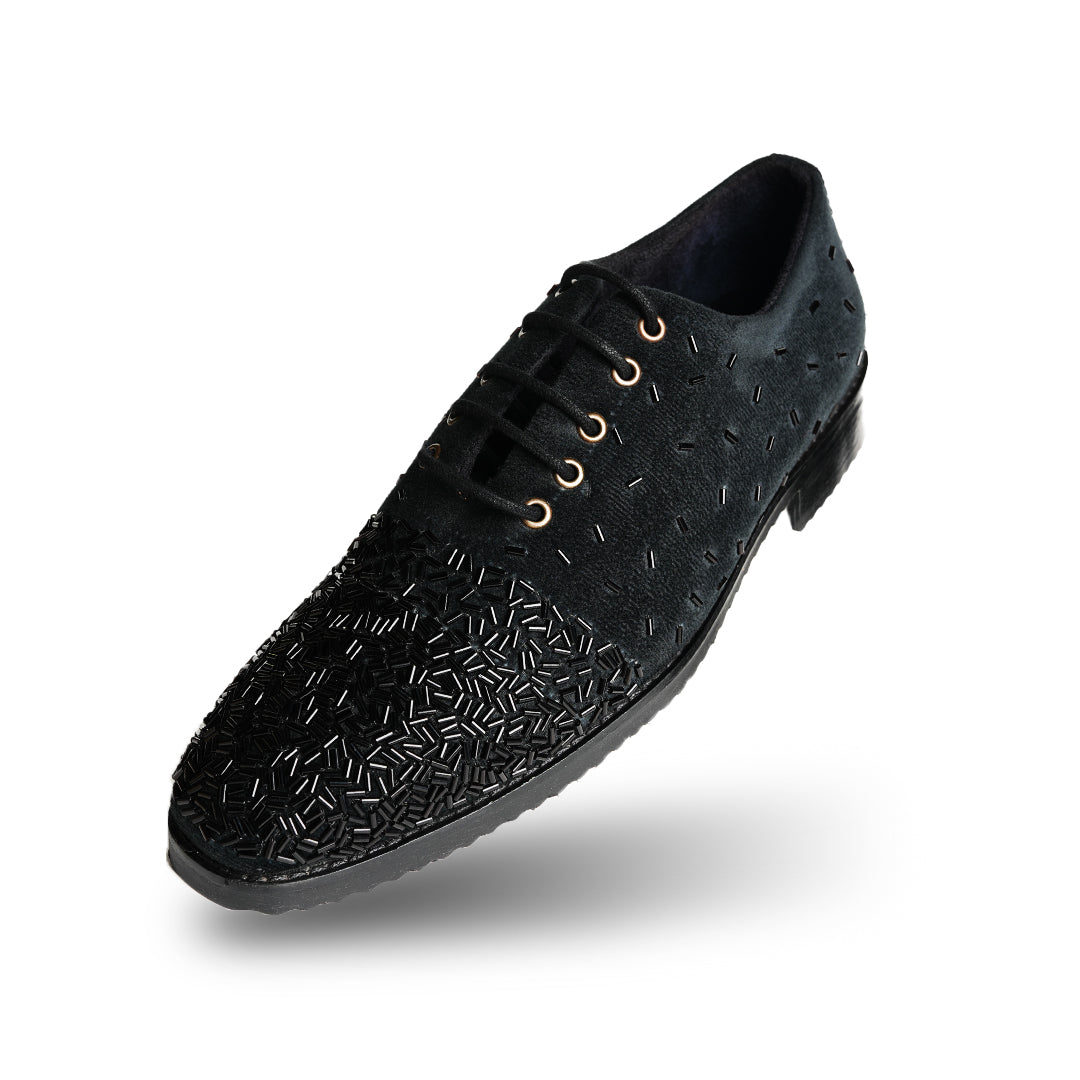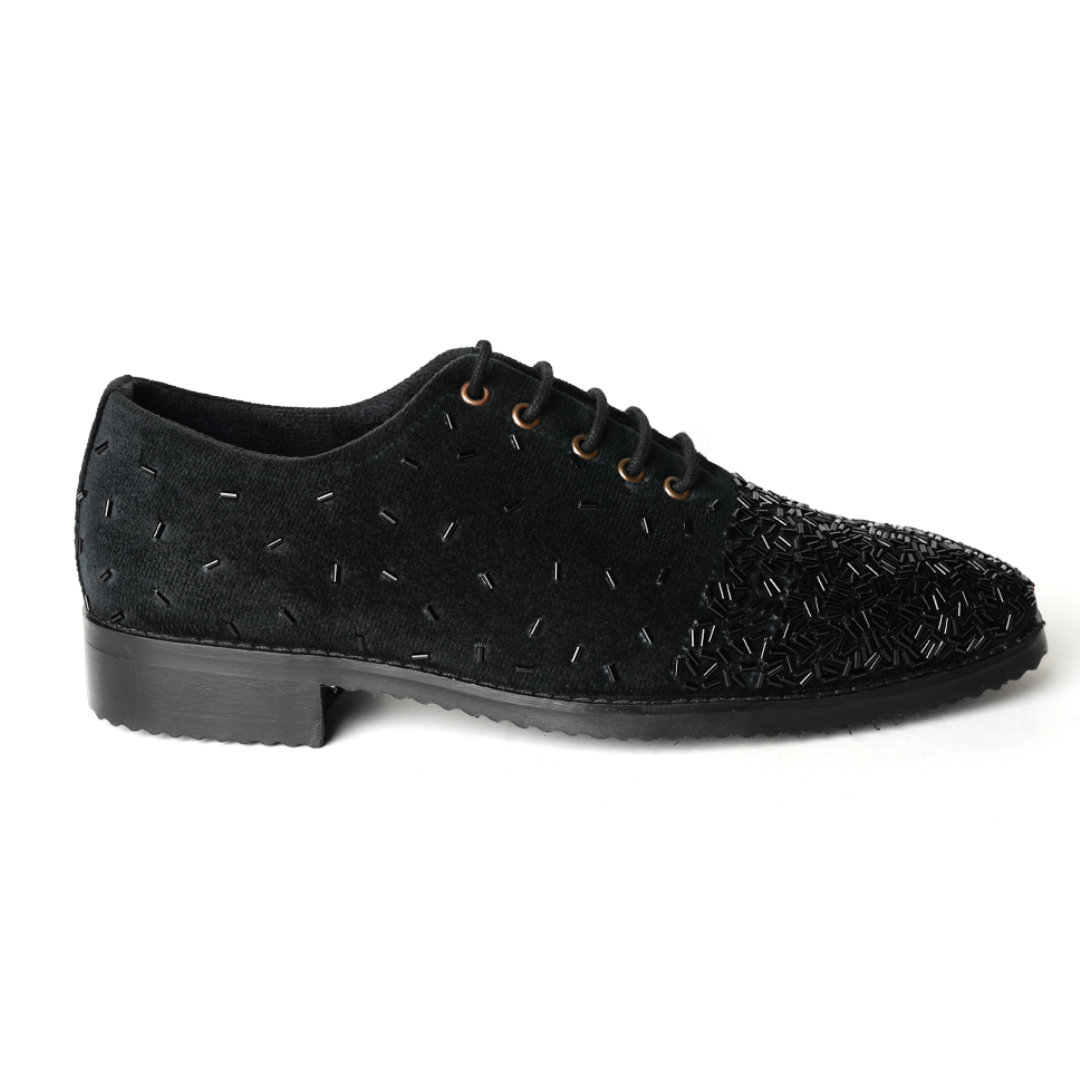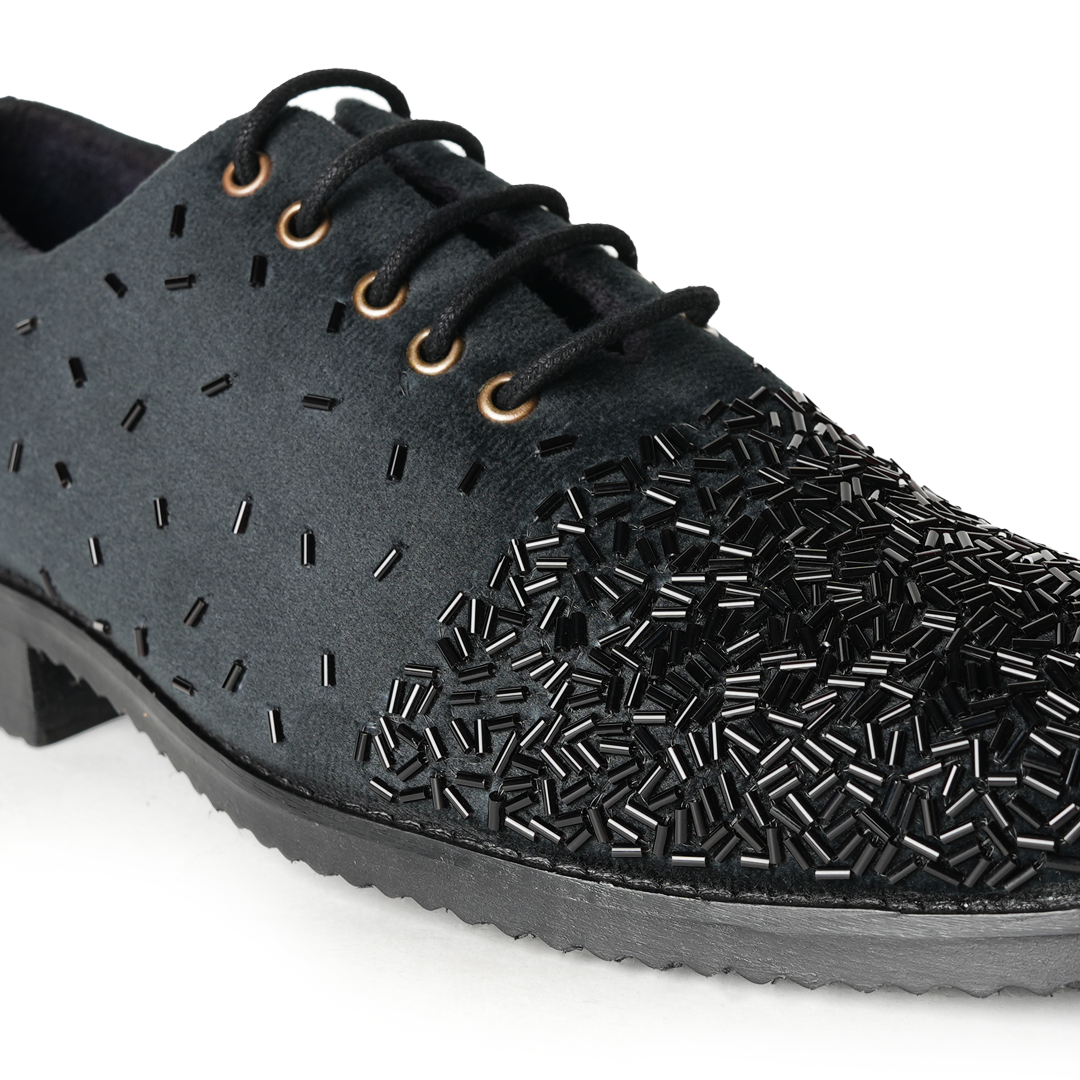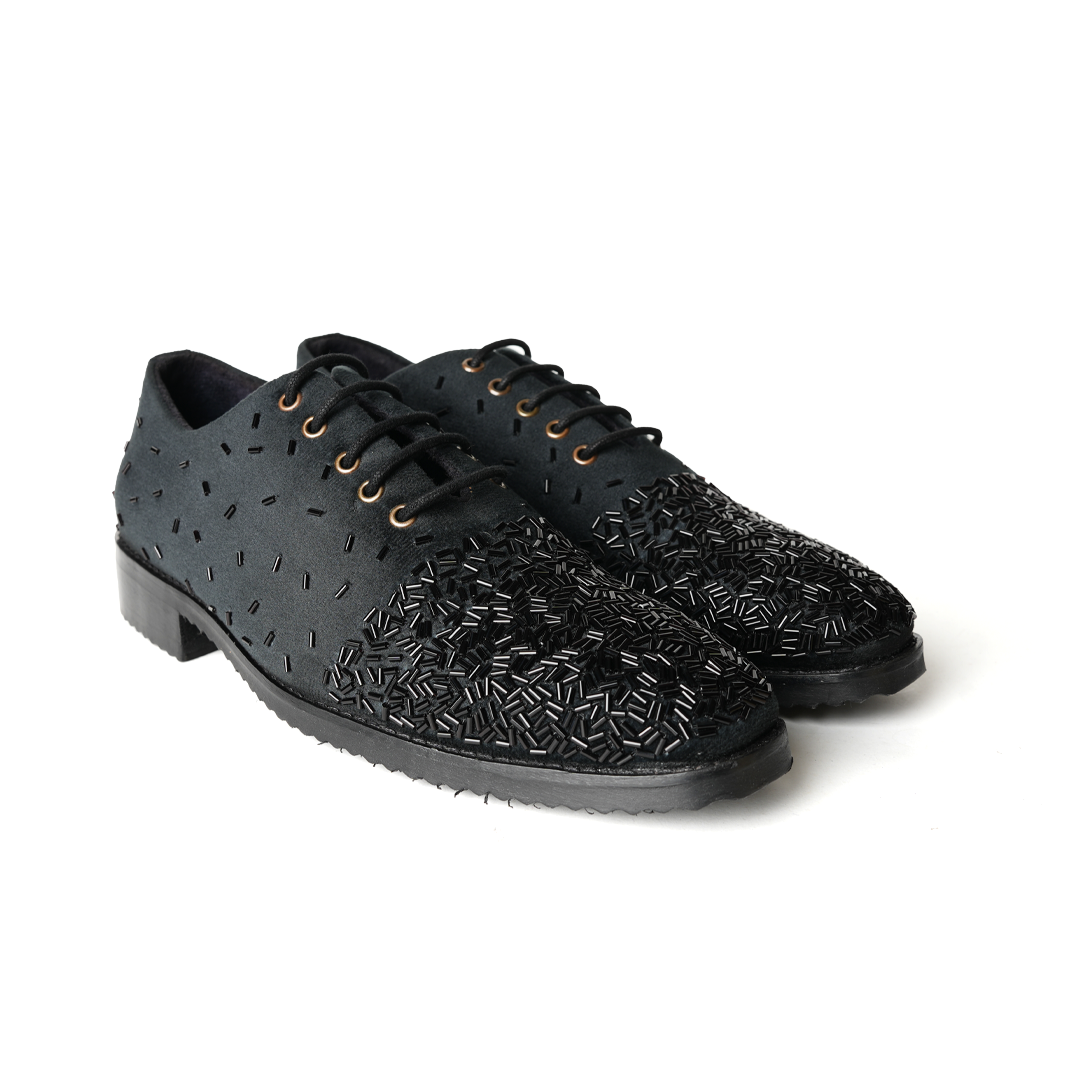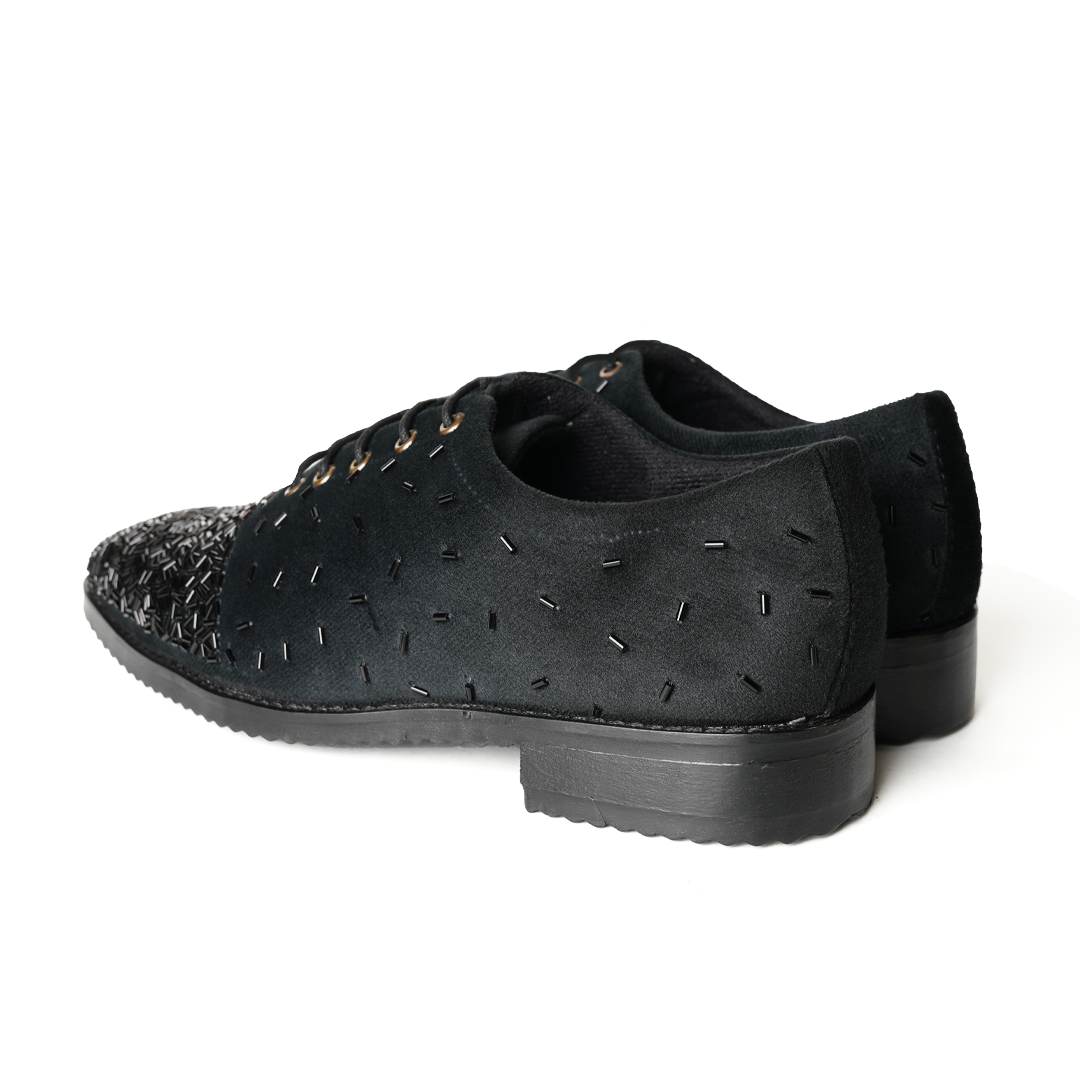 SKU: MS149306
Monkstory Artisan Lace-Ups - Black
Introducing a bold expression of craftsmanship and style: a men's lace-up shoe that seamlessly marries traditional construction with contemporary design. Every facet of this shoe speaks of attention to detail and a passion for fashion-forward thinking.
Color: The dominant black hue offers a versatile base, making it a match for various outfits and occasions. The dark palette beads dds to its aura of elegance and sophistication.

Material: Made with superior quality velvet, the shoe features a unique beaded design interspersed with meticulously crafted patterns that reflect an abstract artistry. This detailing ensures your feet won't just be comfortable but also the center of attention.

Design: A lace-up style that provides a secure fit while also exuding a classic appeal. The blend of patterns, from the beaded stiching to the intricate texture of the velvet, showcases a harmonious balance of innovation and tradition.

Detailing: Golden eyelets stand out against the black backdrop, adding a touch of luxury and contrast.

Sole: A sturdy and durable EVA sole promises longevity, ensuring that the shoe isn't just about looks but also about lasting comfort & performance


A statement piece for the confident man, this shoe is perfect for those who aren't afraid to showcase their unique style. Pair it with formal attire for a polished look or with casual outfits for an elevated everyday ensemble.
To maintain the quality and durability of your PU shoes, clean them regularly with a soft, damp cloth. Avoid using harsh chemicals or abrasive materials that could damage the material. Keep them away from extreme temperatures, as heat can cause warping, and cold can make them brittle. Store them in a cool, dry place away from direct sunlight, and avoid plastic bags that trap moisture.
Proper care will keep your PU shoes looking great for years.
Monkstory warrants all products for 90 days from purchase against defects in material/workmanship. Excludes damages from wear/tear or improper care. We'll repair or replace defective products, but not responsible for any losses/costs.
10% OFF - Use code STYLISH10
Shop above 4000 and get 10% off
15% OFF - Use code CHIC15
Shop above 7000 and get 15% off
20% OFF - Use code VOGUE20
Shop above 10000 and get 20% off
Free shipping
Enjoy free shipping Pan India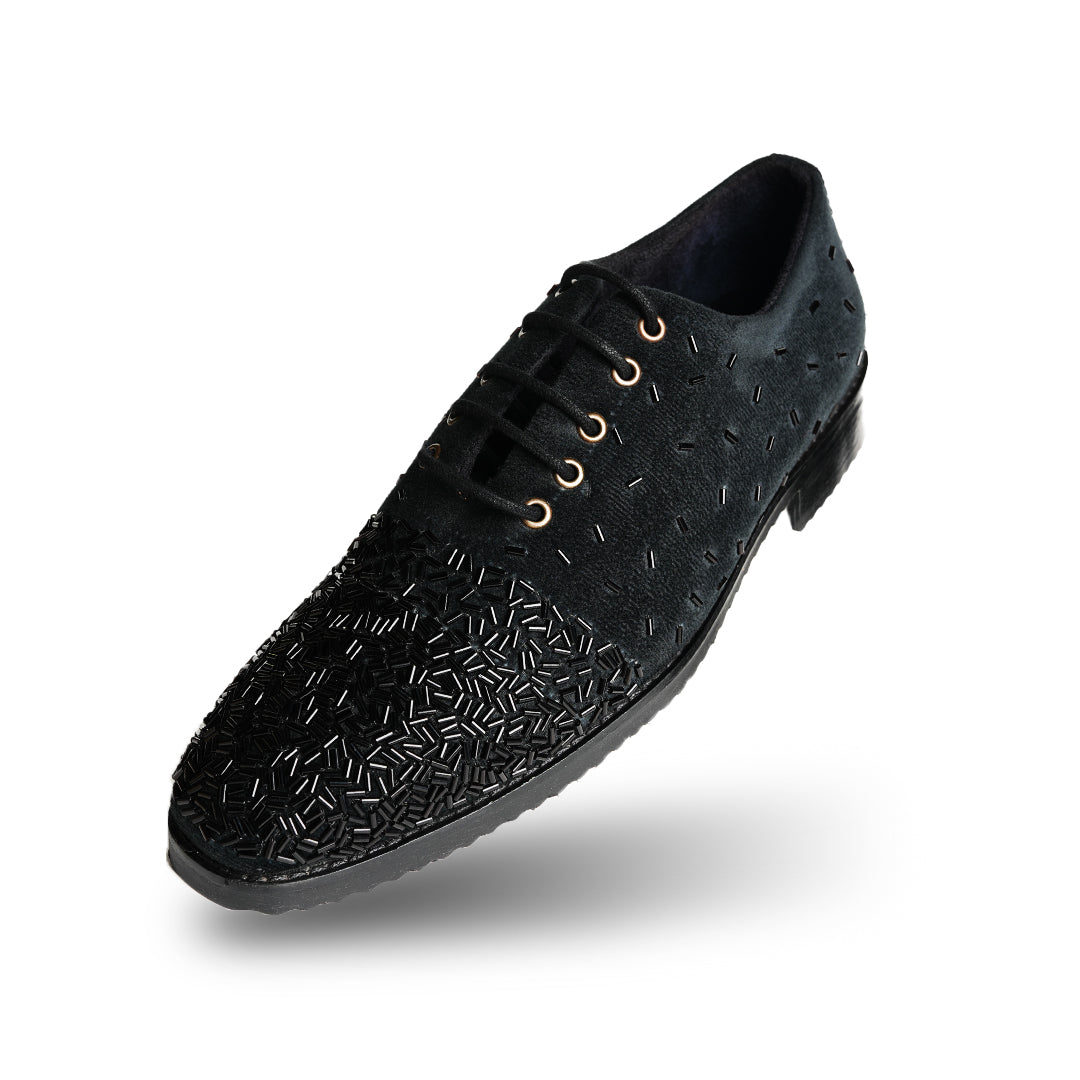 This product has no reviews yet.