It's not just footwear—it's a fashion statement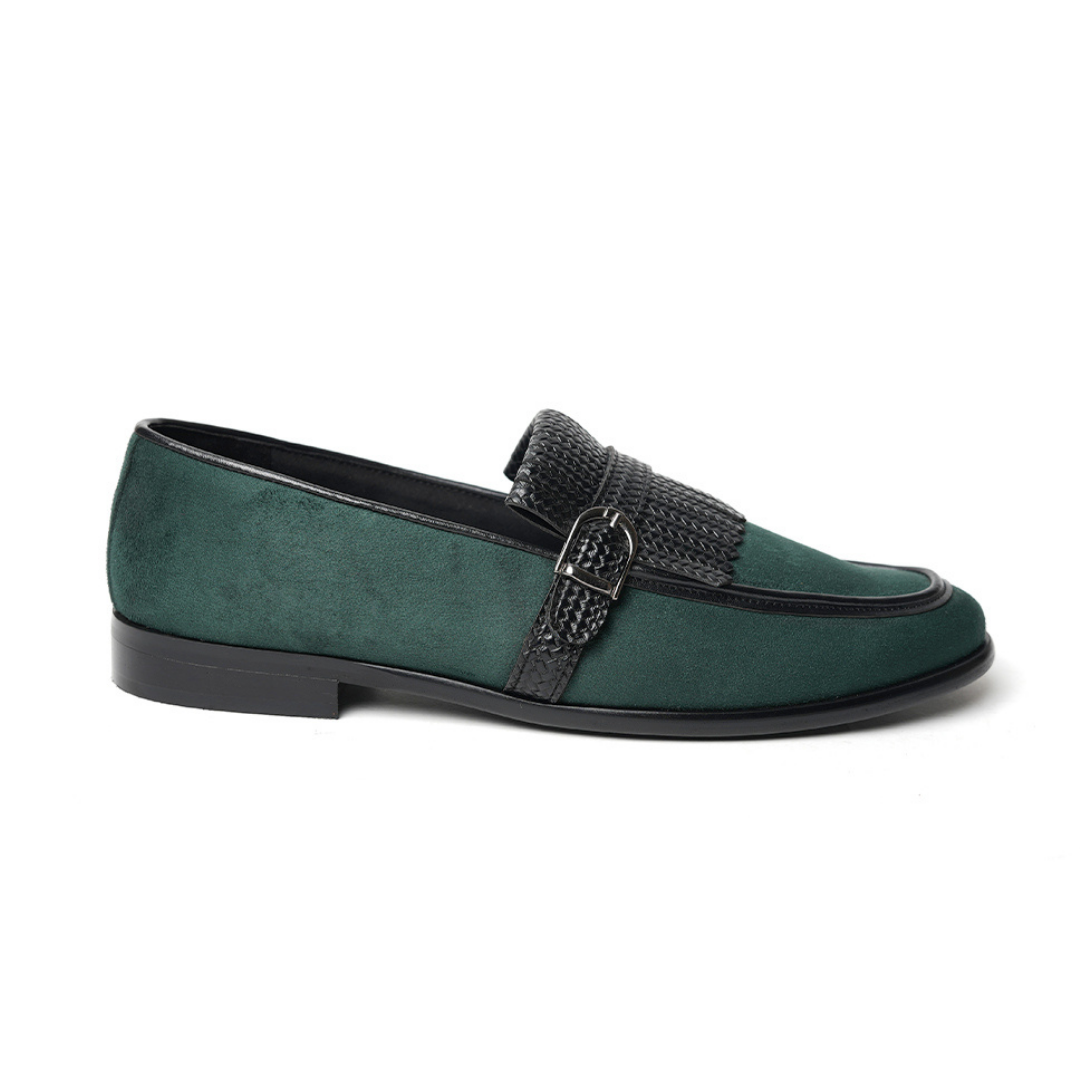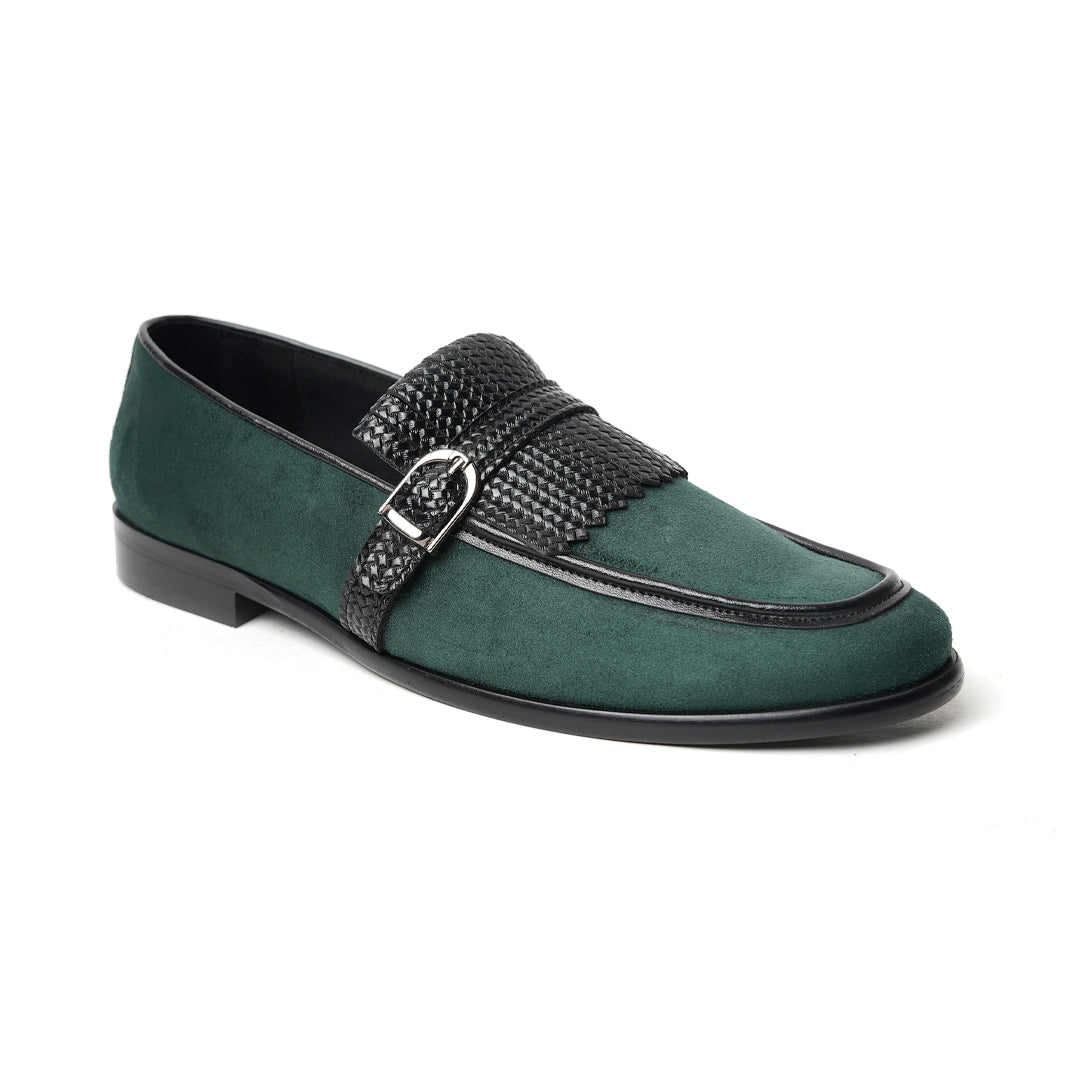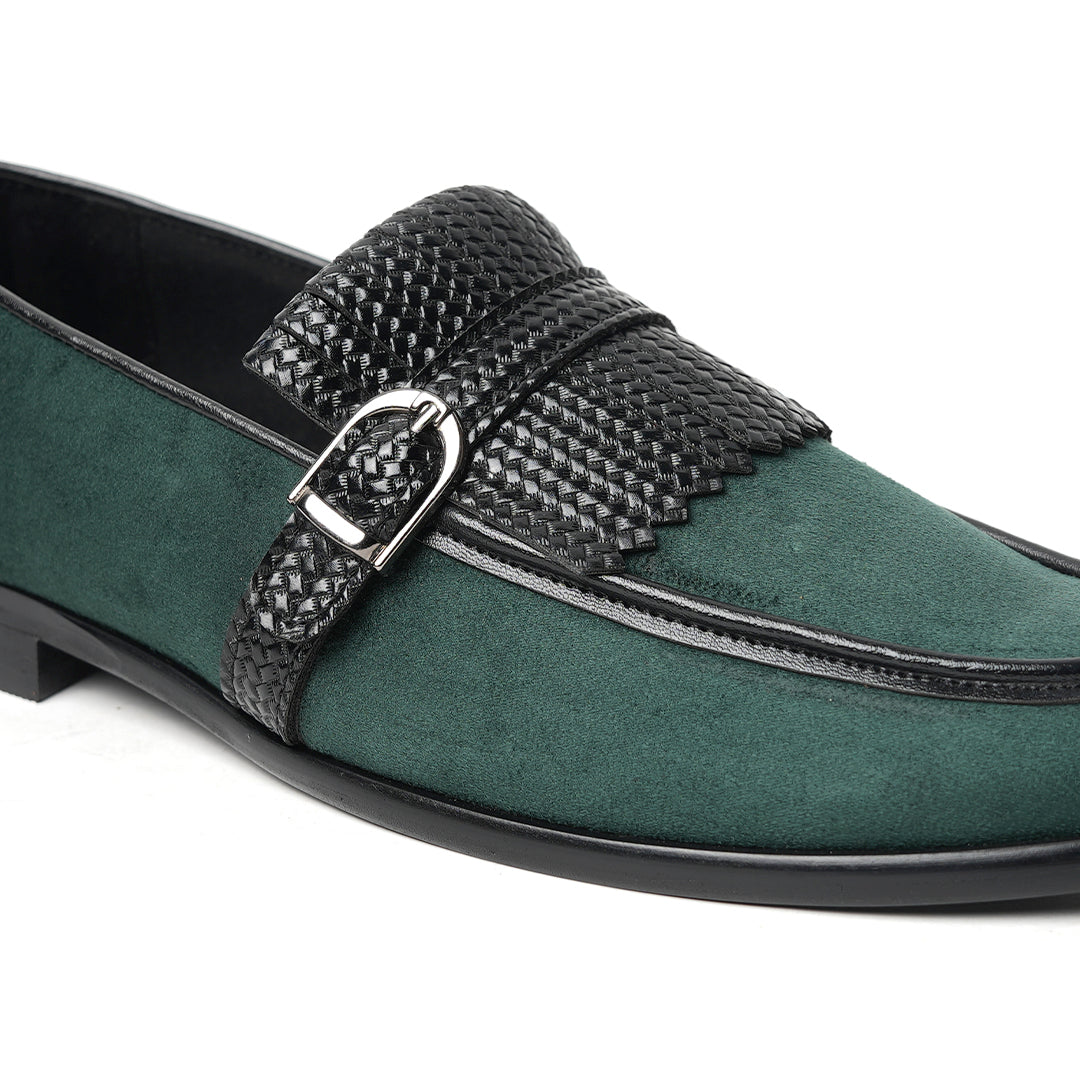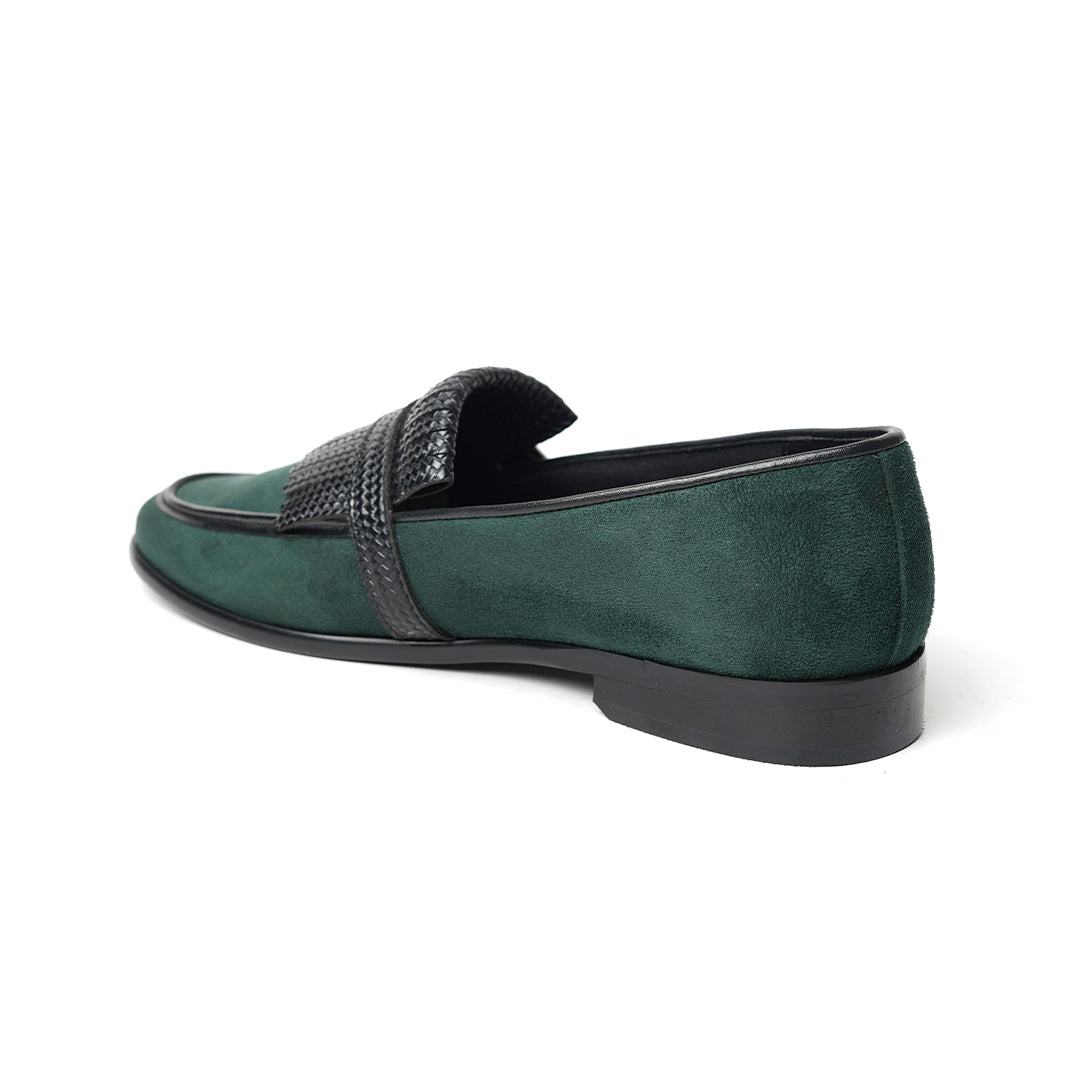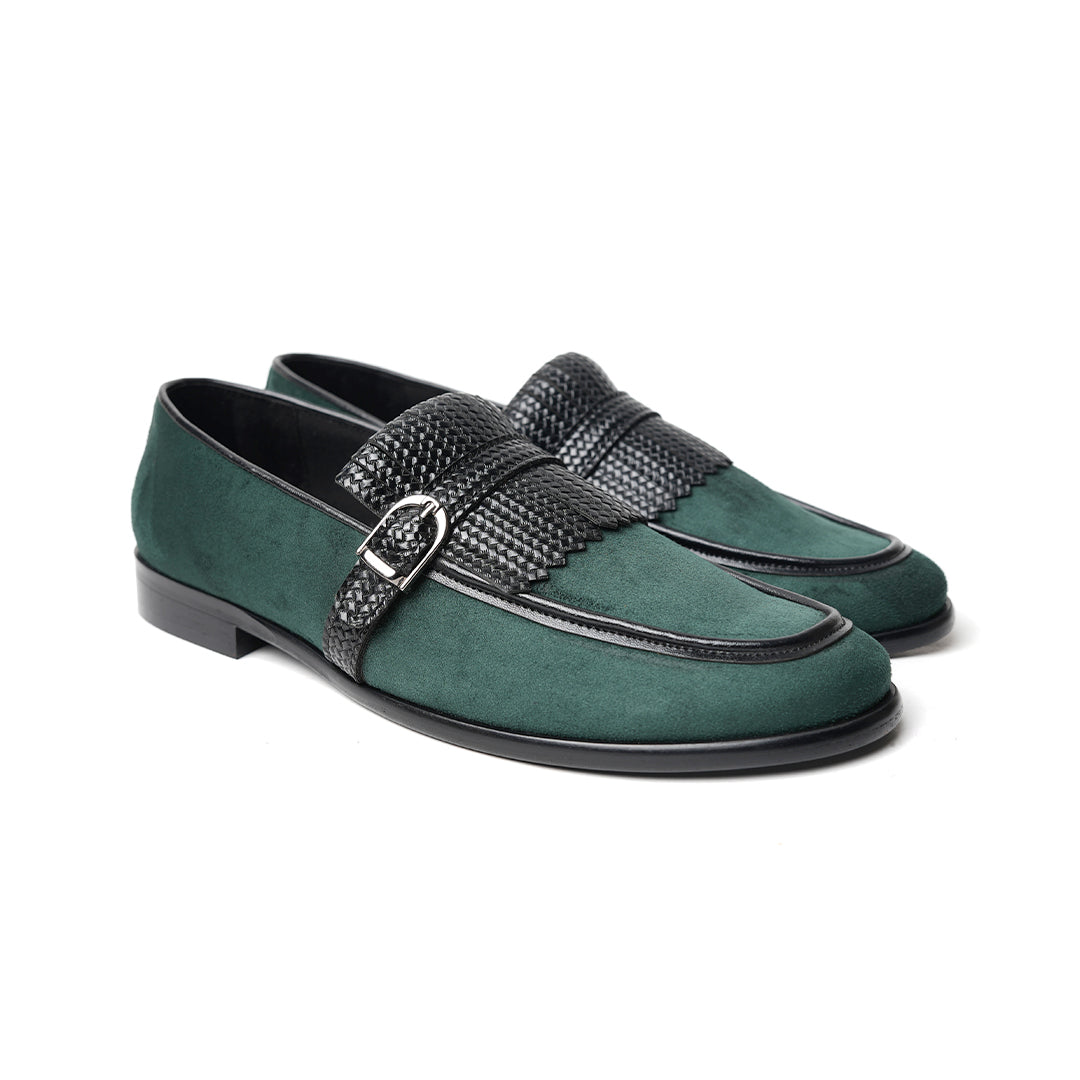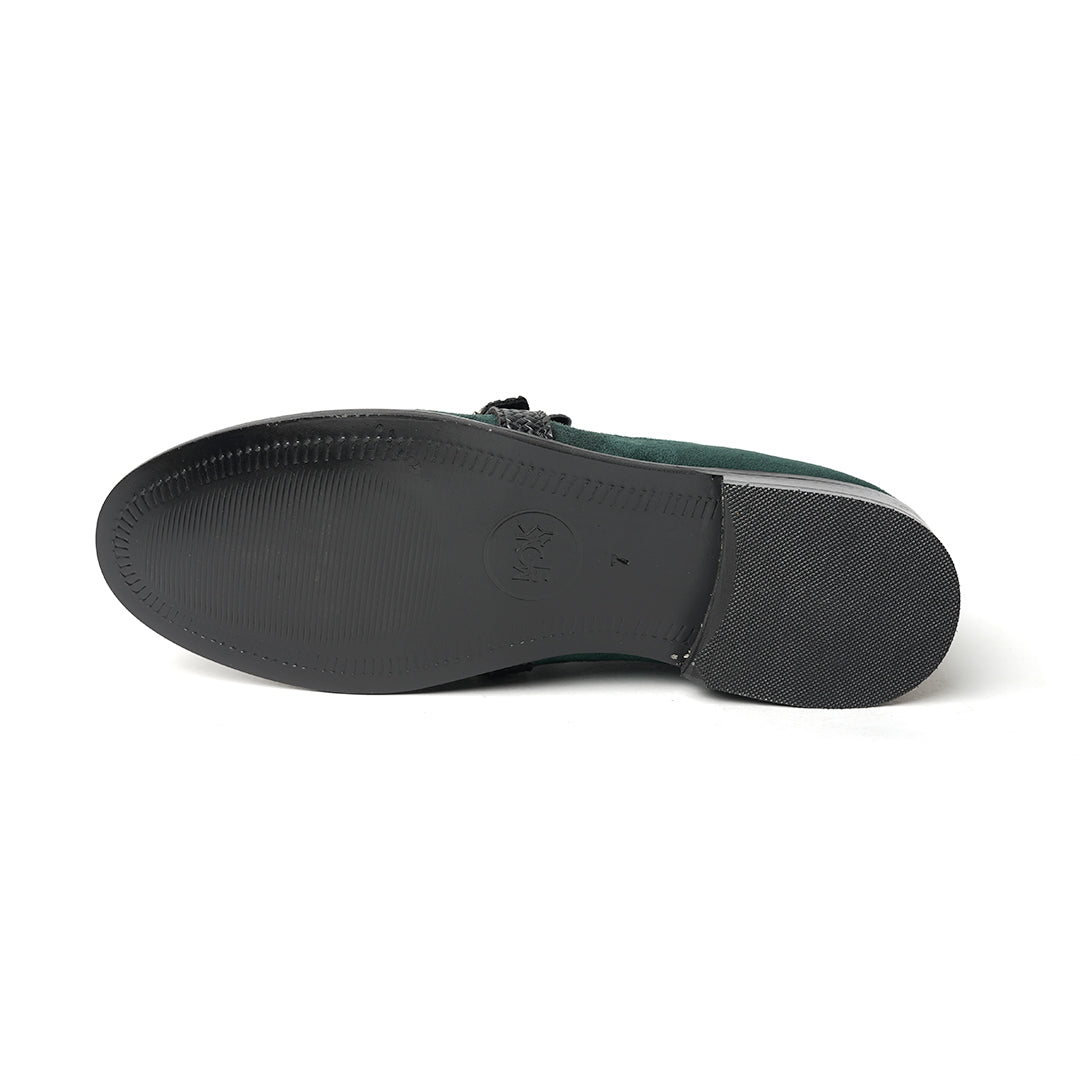 SKU: MS149706
Monkstory Woven Fringed Slip-Ons - Bottle Green
Elevate your footwear collection with the Green Velvet & Woven Vegan Leather Loafer, a harmonious blend of modern design and timeless elegance. Crafted for the discerning gentleman, its rich color and detailed texture make it an instant classic that's sure to turn heads wherever you go.
Color & Texture: Dive into a luxurious green velvet that mimics the serene beauty of a dense forest canopy. The velvet's subtle sheen offers an opulent touch, capturing and reflecting light with every move.

Material: The shoe boasts a premium velvet finish, ensuring durability without compromising on style. The intricately woven black leather strap introduces a unique texture, creating a pleasing contrast to the velvet's smoothness.

Design: A modern take on the traditional loafer, it showcases a silver-toned buckle detail, seamlessly merging classic and contemporary elements.

Detailing: Beyond its striking color, the shoe's distinct woven leather strap stands out, making it a conversation piece. The metallic buckle adds a hint of shine, providing a finishing touch to its overall design.

Sole: Built with a sleek, black, and durable sole, the loafer promises both longevity and comfort.
Formal Affairs: Pair these loafers with a black or bottle green suit, a crisp white shirt, and a muted tie for an ensemble that exudes sophistication. Add a pocket square that picks up the green from the shoe for a coordinated look.

Casual Chic: For a more laid-back yet polished vibe, team these with tapered chinos, a white linen shirt, and a black leather belt. The shoes will act as a statement piece, elevating the entire outfit.

Summer Evenings: Match the loafers with a pair of tailored shorts, a light cotton shirt, and a summer blazer. Perfect for beachside dinners or sunset soirees.

Accessorize: Silver cufflinks or a watch will complement the shoe's buckle, tying the ensemble together with finesse.








To maintain the quality and durability of your PU shoes, clean them regularly with a soft, damp cloth. Avoid using harsh chemicals or abrasive materials that could damage the material. Keep them away from extreme temperatures, as heat can cause warping, and cold can make them brittle. Store them in a cool, dry place away from direct sunlight, and avoid plastic bags that trap moisture.
Proper care will keep your PU shoes looking great for years.
Monkstory warrants all products for 90 days from purchase against defects in material/workmanship. Excludes damages from wear/tear or improper care. We'll repair or replace defective products, but not responsible for any losses/costs.
10% OFF - Use code STYLISH10
Shop above 4000 and get 10% off
15% OFF - Use code CHIC15
Shop above 7000 and get 15% off
20% OFF - Use code VOGUE20
Shop above 10000 and get 20% off
Free shipping
Enjoy free shipping Pan India
This product has no reviews yet.